Next Meeting
Will be a winter outing.
Boise Gas
(Walmart)
Regular: $3.44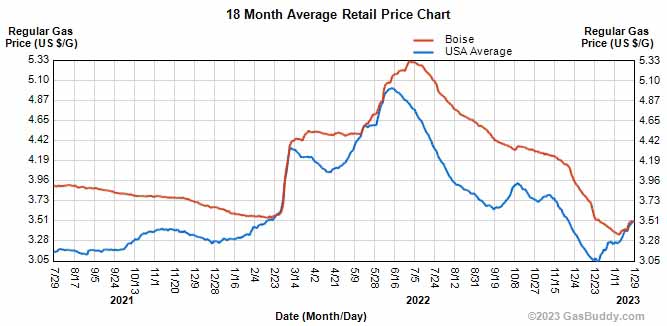 President's Newsletter
January 2023

Ron Agenbroad
HAPPY NEW YEAR!!!! Looking forward to this year, we have a great camping schedule ahead of us. I even got so excited a week ago that I gassed up the RV. Well actually the price had gone down a miniscule amount. We know the price fluctuates in huge bursts on the way up and very minimally on the way down. Even though we are not camping yet, there is still a lot going on right now. We have three committees working, the standing rules committee, the logo and colors committee and the summer campout committee. As well we have Monica working on winter outings for Jan., Feb., and March.
The Standing Rules Committee, chaired by Suzanne Craig, has been working on organizing our Standing Rules and is ready to submit a document (Even with the Good Sam delay) for our review, comments and ultimately voting. The Logo and colors committee, chaired by Julie Vick, has submitted several possible logos and is still taking logo suggestions. A possible hold-up for this committee is that the State hasn't chosen their logo. The Summer Campout Committee, chaired by Ron McFadden, has met with the two other chapters we are working with to put on the Summer Campout in Glenns Ferry this June. The theme "Howdy Pardners" has been selected. We are responsible for hospitality which Jack and Kathy have agreed to head-up, the Saturday Night Banquet for which I have reached out to the Oxbow in Bliss for an estimate to cater the meal, indoor and outdoor games and prizes, registration which Roberta McFadden has agreed to be in charge, and set-up of chairs tables etc. We are hoping for a very successful Summer Campout and our contribution to that end can be accomplished much more easily with the help of everyone in the Chapter. Each of us has interests and talents which when all brought together can create a great outcome. Please get involved and help us. The next meeting with the other chapters is noon January 30 at the Idaho Pizza near Cole and Fairview.
RVers of Idaho will be voting on a logo at the Summer Campout. Eldona, the State Director, is seeking a logo committee of four to five people to pull all the logo suggestions together and present them to the membership. If you are interested please contact Eldona at: 'rversofidaho2021@gmail.com'. We need to select a new State Director and State Treasurer this year to be voted on at the Fall Campout in American Falls this September. If you would like to be nominated or would like to nominate someone, those need to be submitted to Eldona at 'rversofidaho2021@gmail.com' for the State Treasurer and to Larry Hobdey at 'jazzman5368@gmail.com' for State Director prior to the Summer Campout in June.
Our next meeting will be January 26. See the calendar for details.
May God's blessing be on each of you.
Ron Agenbroad, President